Principal's Corner
Chaplin Elementary School 
FROM THE DESK OF Patricia D. King, Principal
Principal's Corner
Fall 2017
This has been a very busy fall at Chaplin Elementary School.  Our students are settled into their classroom routines enjoying learning new things and working with their classmates and teachers. I love to visit our classrooms to see how engaged each student is in that day's activities. It's amazing to see how much they are enjoying our new math program.  The mathematical conversations that are taking place between the children really show me how much they are growing as critical thinkers.  Hearing "I love math" is a common phrase that flows through out our school community.  How exciting!
Have your children talked with you about our Time Capsule?  As a school community we created a new capsule that is scheduled to be opened on 2042.  The children were so excited to share their contributions at our school-wide assembly.  Later that day many helped bury the capsule in front of the school.
This year we will be adding new activities for you to enjoy with your child.  "Muffins with Mom" was a huge success.  Keep an eye out or "Donuts with Dad" and "Goodies with Grandparents".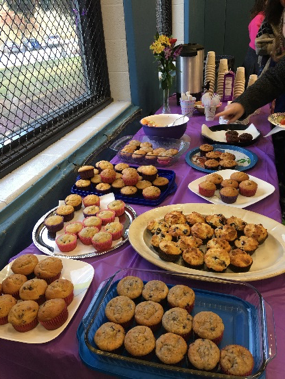 If there is anything we could do to improve the website, or any other aspect of Chaplin Elementary School, please don't hesitate to call me (860) 455-9593 or send me an email: pking@chaplinschool.org.  Also, don't forget to "Like" and follow CES on Facebook.
Best,
Patricia D. King, Principal